WARMAN COVID-19 UPDATE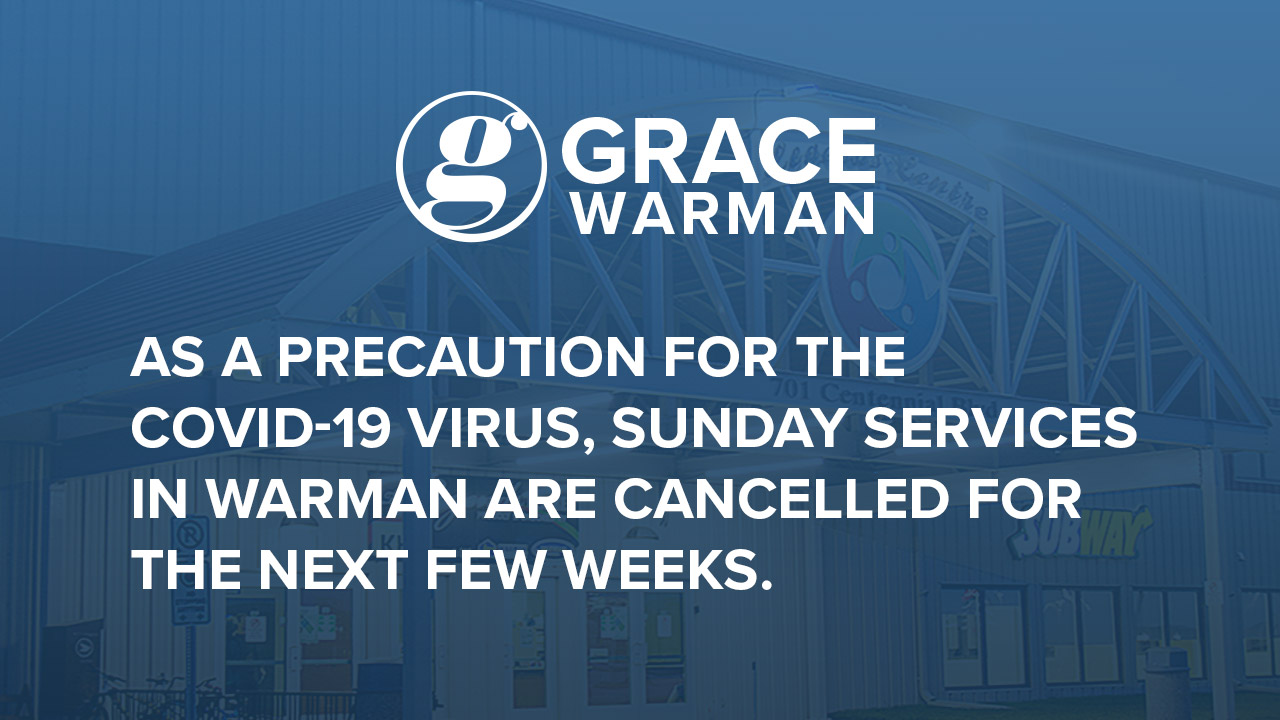 GRACE WARMAN WILL NOT BE HOSTING SUNDAY SERVICES FOR THE FOLLOWING DATES:
March 15, March 22, March 29
We will keep this list up-to-date as the situation changes.
With all the worry going around on social media, news media, and within our own heads, I figured it would be good to be reminded of how we as Christians can approach the situation we find ourselves in, where a new disease has swept across the world and has now officially been declared a pandemic.
First and foremost we need to remember that no matter what happens in this world, it is not outside the will of our sovereign God. He controls everything from the smallest of atoms and molecules to the largest of creatures and planets. Nothing happens that has not passed through His hands.
This is why we should take into consideration Paul's words to the Philippian church:
[4] Rejoice in the Lord always; again I will say, rejoice. [5] Let your reasonableness be known to everyone. The Lord is at hand; [6] do not be anxious about anything, but in everything by prayer and supplication with thanksgiving let your requests be made known to God. [7] And the peace of God, which surpasses all understanding, will guard your hearts and your minds in Christ Jesus.
Philippians 4:4–7 (ESV)
Do not be anxious about anything. Rest in the peace of God, which surpasses all understanding.
And then with the peace of God, we can take into consideration what is happening around us and how we are called to deal with it.
There have been numerous articles written and shared letting us know about the physical effects of Corona virus as well as how it is spreading and who it is most likely to infect.
A few good articles are found here:
With large events across the continent being cancelled as a precaution to help prevent a spread faster than what our health care providers can deal with, we want to make sure we are not responding in ways that are less than helpful.
This means we don't want to be approaching it with fear. If your family is well, you likely don't need to be cowering in your homes, stockpiling water and toilet paper. But we also don't want to take it too lightly.
Our church is mostly made up of healthy young families, which means for the most part very few people would feel any symptoms worse than a bad cold if they were to come into contact with the virus. So if we're just thinking about ourselves and our households, then it's easy to feel like we don't need to be taking any real precautions.
But as Christians, we've been called to view the world through the eyes of Jesus. Which means, we get to look out for the vulnerable among us, and take them into consideration above ourselves.
So as we think about this, we don't want to respond with a lack of compassion. There are real people being infected who have to face real consequences of this disease. As we pray, we can be praying for those who have contracted the disease as well as praying for the spread to stop and for an effective antiviral and immunization to be found (it's actually amazing that Saskatchewan is leading the way in its development).
For those who are older, or who have compromised immune systems or lung health issues, this virus is much more severe than the common cold or flu.
But as I said earlier, we don't approach the situation with fear. But just because we don't fear, doesn't mean we aren't cautious and that we don't use good preventative measures to protect ourselves and others around us.
But out of love for the more vulnerable around us (think your Parents, Grandparents, those in our church who are older or who have weakened immune systems) please take the proper precautions of washing your hands thoroughly and using good hygiene.
Due to the nature of being a mobile church, we do not have full control over our facilities or meeting spaces. Out of respect for the desires of our community in Warman and to take appropriate precautions to limit the spread of the COVID-19 virus, starting March 15th, Grace Warman will not be hosting Sunday services for the next few weeks.
We will not have access to the Legends Centre before April 26h, which means we will be evaluating the situation on a week-by-week basis in April to see if there might be an appropriate meeting space for us to use in the mean time before we are able to be back in the Legends Centre.
Until then, we will still be recording and posting the sermons online so that we can continue our study through the book of Hebrews as you gather in Gospel Community to continue to love and share life together in appropriate ways that allow us to continue to love our neighbours by staying clean and healthy to keep this pandemic at bay.
For us as a church family, this is another great opportunity for us to show the world how we are trusting our Heavenly Father. We are not afraid, but we are also not glibly suggesting that it's no big deal. Jesus has this in control, and He's going to work through us to accomplish his will and serve those around us regardless of what it costs us.
Categories:
Uncategorized