Porterbrook Learning Class – Keeping it Missional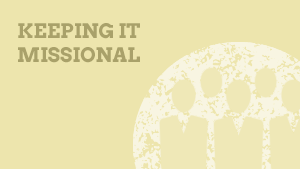 Our next Gospel-Centered Bible Training class will be held on Saturday morning, August 20th from 9:00 a.m. until 11:00 a.m.
Once enrolled, you will receive access to the material and videos that you work through at your convenience.  Then all of the students gather for the class on the 20th to share with one another the results of their study and application for the benefit of all.
Please follow the link for more information on this particular class.
This training is for any Christian that desires to grow in the grace and knowledge of our Lord Jesus Christ. The goal  is not simply head knowledge but a transformed life. Please speak to those who have participated in some of the previous Porterbrook training classes to hear about their experience and check out the website here: gracesask.com/porterbrook for more info.
PORTERBROOK LEARNING: Porterbrook Learning is a basic theological training course suitable for all Christians. It is designed to be accessible and does not require any previous training or experience; yet it remains compelling and challenging even for the theologically trained.
Categories: Announcements, Missional, Porterbrook